Here is the first part of the 3 part "remote work survival guide" saga in which we provide you with the essential tools for a remote team.
Raphaël, Michaël and I founded The Computer Firm (TCF for close friends) in July 2016. We had met a few months earlier, in the little paradise of Bali. We were then participating in a "Startup Weekend", a competition during which a multidisciplinary team (developers, marketers, designers) worked non-stop for 54 hours to create a startup.
6 months after the creation of TCF, we paid ourselves salaries. Now 4 years later, we have a full time team of 6 and have created over 70 apps, websites and marketing campaigns for clients on 4 continents.
All… entirely by teleworking (or "remote work" as we say). With the COVID-19 crisis, many businesses are finding themselves forced to transition to teleworking, which can be really intimidating at first.
We have decided to share our experience with you in a 3-part saga:
Free tools (or almost) to facilitate teleworking
The communication and team building techniques we use
Our advice to be effective in teleworking
Part 1: Free tools (or almost) to facilitate teleworking
To start our guide to efficient and pleasant teleworking, we willtell you about the tools we use on a daily basis which allow us to communicate, exchange with our customers, share information, images, and files even more efficiently than if we were together in the same office.
Slack, the essential communication tool for remote teams Link
to
Slack
If I had to pick just one tool that makes remote working easier, it would be Slack. It allows you to fight the team's number 1 enemy from a distance: endless email chains. Slack is a collaborative chat tool that allows the whole team to communicate instantly.
Just create channels for the different projects you're working on and invite your team members to join them. You can exchange information about the project, and share documents and images. The time you save is enormous: no more internal emails, and it's easy to find information and documents.
On Slack, we
Save time by sending less internal emails
Find information and documents easily
Centralize communication
On Slack, we would like
The possibility of marking a message as unread, for post processing
The ability to record voice notes
Whereby, free videoconferencing, GDPR compliant
without the need to install software

Link

to

Whereby
We use the Whereby platform for our video conference calls. The big advantage of Whereby over Zoom? No need to download an app. You just have to create a virtual conference room, copy / paste the link, and share it with your interlocutor who then opens it in his/her browser.
On Whereby,
There is no need to install anything, just click on the link and everything is done in the browser
The data is hosted in the European Union and the platform is GDPR compliant
Once the link is created, for example whereby.com/clientname, it is valid ad infinitum: no need to recreate a link each time
On Whereby, we would like
The ability to record conferences (paid version only)
The possibility of organizing conferences with more than 4 participants (paid version only)
Loom, to create recordings of your presentations
Link to Loom
Loom is a tool that lets you record your computer screen, voice, and even your webcam, and then share the video. We often use it, for example, to create demos for our clients, or even to present them with a project proposal that we would have previously presented to them in person.
In a few clicks, we record a video of our screen and give a presentation, and then the program automatically creates a link that we send by email to our customers. Thus, the user can watch the video at his/her convenience, and watch it as many times as (s)he wishes.
Loom is great for its
Ease of use: a simple click and you record your screen, sound and video
Possible addition of your miniature camera at the bottom of the screenshot
Ability for the recipient to view the video at their convenience, endlessly
Lack of need for installing an application: everything is done in the browser
Ability to edit videos: shorten them and add notes and emojis
Ability to download videos in mp4 format
On Loom, we would like
Google Drive, the magic of the Cloud
Link to Drive
Our business is almost entirely managed from the cloud. We can access it from anywhere, and without any risk of losing information if something goes wrong with our computers. Our Google Drive is organized as an internal server, with one file for each project.
What about information security on Google? It all depends on the sensitivity of the information you are handling. The most common problem is the security of passwords. Make sure that the passwords your employees use are complex enough not to be easily guessed, and are kept secret. It is also recommended that you set up two-factor authentication.
When in doubt, don't put your most confidential files in the cloud.
On Google Drive, there is
Ease of access to information, ideal for working from anywhere
The ability to provide access to files and documents by simply sharing a link
The ability to edit documents collaboratively, which avoids having to double check which is the newest version
The search function which makes it possible to find documents easily
On Google Drive, we don't like that
Google Sheets does not support all Excel features
Skype number, to use your mobile phone as a landline
L
ink to Skype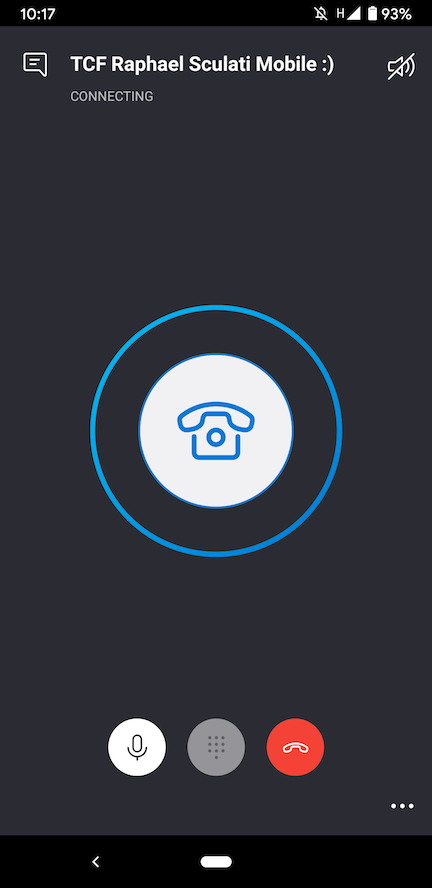 Skype number, to use your mobile phone as a landline Link to Skype
We like our Skype number because it gives us :
The ability to call our customers with our corporate landline numbers from our mobile phones, wherever we are
The subscription which includes free calls to most international landlines
Incoming calls that ring on all employee phones, so you won't miss calls even if no one is in the office
We dislike:
The Swiss version only allows you to choose 3 possible indicators: Geneva, Thun and Zürich
The Skype user experience is not always ideal
---
It is not always easy to make the transition to a team working effectively from remote locations. After 4 years of research into optimizing our processes, these tools have proven to be essential, and we use them on a daily basis. We hope you find them useful! Do not hesitate to let us know your thoughts or if you have any questions about improving your remote work experience.
Dans le prochain épisode de la saga télétravail, nous vous présenterons nos techniques de communication au quotidien pour une équipe à distance, pour une efficacité maximale et des collaborateurs soudés.