Brief.
Christian Petermann is an attorney from Geneva, specialized in construction and real estate law. The objective of the lawyer is to provide his clients with a showcase website, presenting his areas of expertise and specialties. Active on professional social networks and now in the press, the lawyer also wants to regularly share articles and news items, for a dynamic and interactive site.

The Computer Firm created the new website of the firm in March 2018. I appreciated the combination between, on the one hand, the sharp technical knowledge and, on the other, the responsiveness of the members of the team. Their availability and efficiency in pooling skills have allowed for a fluid and pleasant collaboration, and a final result that lives up to my expectations.
Process.
We started by creating a brand image around the activities of the lawyer: defining of a navy blue and golden color palette, and a choice of stylish fonts. A navy blue filter has been applied to the images for a consistent design.
We have implemented a main image showing the lawyer smiling which radiates a feeling of empathy, which really inspires trust.
The site has been organized according to a simple and clear architecture: a homepage that acts as an information "central", which includes the main information about the firm and the lawyer, ending with a contact form.
Then comes a page with the professional and academic career of the lawyer. The page detailing the areas of competence includes a design in "drawers", which can expose a significant amount of information without occupying disproportionate space on the page.
Finally, the publications page, allows the lawyer to share news items and press articles.
The site has been fully connected to the content management system developed by The Computer Firm, which allows the lawyer to update the information it contains, and share his news with only a few clicks.
The site is perfectly optimized for reading on mobile and tablet: information adapts systematically to the size of the screen from which it is viewed.
Graphic elements.
Color palette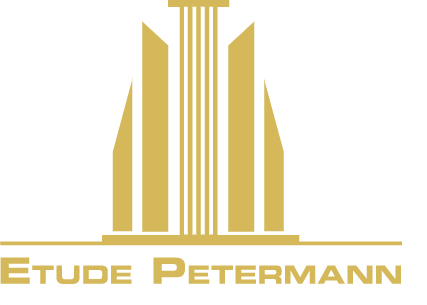 Technologies.
Corporate site: HTML / SCSS / Jquery
Result.
The website of the law firm of Lawyer Christian Petermann is a complete informative showcase, which allows for a browsing experience optimized to all devices. It gives the lawyer a modern and dynamic image, and becomes an additional argument for the solidity of his expertise.