In this second part of the remote work survival guide, I will tell you about the communication techniques implemented at TCF since its inception 4 years ago.
Find the first part of the survival guide here. We show you the tools we used to maintain optimal productivity as a remote-based team: Slack, Whereby, or Loom. 
---
Since TCF's founding, we have taken full advantage of the opportunities offered by remote work:
Michaël worked in a

converted van in Portugal

for 3 months, in order to take advantage of the waves on the Portuguese coast.

Raphaël spent 3 months in the

Australian bush

, where he founded a second company alongside TCF.

As for me, I had the chance to spend 10 months in an

amazing coworking space in Bali

, surrounded by brilliant entrepreneurs.
We are a team based around the world, in multiple time zones, and we founded TCF on the principle of "working to live" rather than the other way around. We had to adopt or develop several communication techniques, for a united and efficient remote team.
Daily Scrum Meetings, to get an overview of the team's tasks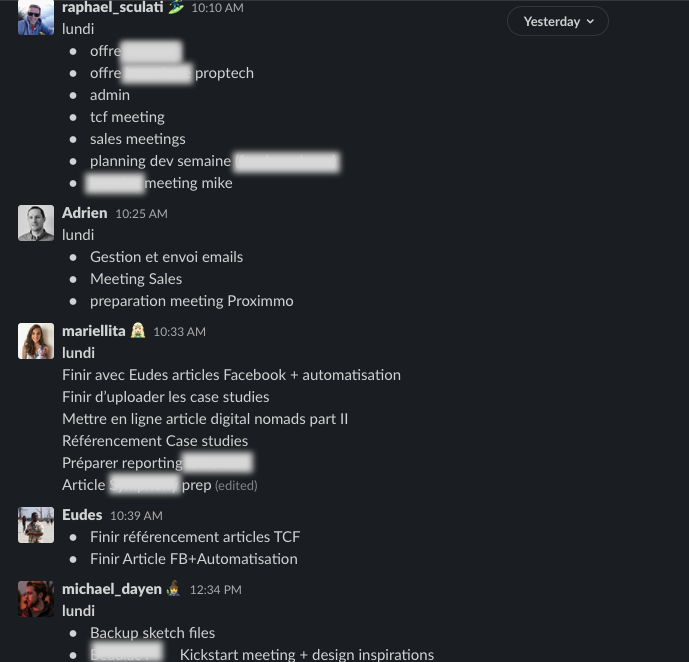 Daily Scrum is a project management technique whereby each morning each member of the team shares the following with the rest of the team:
A quick summary of the tasks (s)he performed the day before
The ones (s)he plans to do that day
Any questions (s)he might have for other team members.
Thus, everyone is constantly in the loop and knows what work has been done and what has yet to be done.
Psychologically, it also helps us to create the feeling that we are colleagues meeting "at the office". When they post their Daily Scrum, you know they're there and that the team is hard at work.
Two weekly meetings with complementary objectives
Twice a week, at set times, we all meet in our Whereby virtual conference room.
These two meetings are structured differently:
At our meeting at the beginning of the week,

only problematic projects are discussed

that was have specific questions about. This allows us to focus on projects that require special attention.
At our end of the week meeting,

we quickly go through all the projects

. Thus, at least once a week, all the projects are discussed, and nothing gets left behind. 
Company Trips, to work on important projects and have a good time
These are really important to TCF's "health". Two to three times a year, we meet at a different destination to spend 10 to 15 days together. During these trips, we organize our schedule so as not to have work to do for our clients.
We dedicate half of our time to highly productive work on important projects: communication strategy, redesigning our website, etc. The rest of the time, we don't work, but we go hiking, for a night out on the town, skiing, etc.
During the past 4 years, we have traveled to Budapest, Paris, and even to the mountains of Valais.
Our next destination? Tel Aviv, as soon as the situation allows for it!
Shared schedules, for being able to work hard on important subjects, and for enjoyment
We each have a set schedule for the week. It allows us to free up long working hours for projects that require concentration and creativity.
For example, we all know Mike's mornings are all about design work. After completing his Daily Scrum, he does not check his emails or Slack. On Fridays, Raphaël works throughout the day on resolving development tickets in his pipeline.
This allows us to work without interruption and to focus on one task at a time. At the end of such a week, we have noticed that our sense of accomplishment is greater, and that our brain is not on the verge of exploding.
Conclusion
The more dispersed the team is, the more important it is to implement optimal communication techniques.
In addition to being essential for the successful progress of projects, these really impact the feeling of cohesion within the team. When it falls, it immediately affects the remote team's motivation and productivity.
This is why the implementation of effective communication techniques is essential for a team working from home.
---
It is not easy to make the transition to a team working remotely and effectively. After 4 years of research into optimizing our processes, these tools have proven to be essential, and we use them on a daily basis. We hope you find them useful!
Feel free to let us know what you think, or if you have any questions about how to make your remote work more productive and effective. 
In the next episode of the remote work saga, we will share our daily routines and our work environment, for optimal productivity.